Dog Training Classes in Berthoud
At Dog Days Training Center in Berthoud, it is our primary goal to ensure that the dogs we help train are safe with people and safe with other dogs. We feel it is important for dogs to learn to calmly deal with the many situations and various experiences they will encounter during their lifetimes.
We love working with owners who appreciate the great pleasure of having a well-behaved dog in the home, and who are willing to commit the time and effort it takes to make that happen.
Our training facility consists of an enclosed, heated/cooled "barn" area for indoor work, fully fenced pastures for outdoor training, and a pond for further learning experiences and big fun.
In order to train owners to train their dogs, we offer a variety of training options:
Group Classes

 :
Please check the calendar & email us to confirm your spot now! 
A group class situation is most appropriate for younger puppies, as well as for older dogs that interact comfortably and safely with other dogs and with people.
In these classes, we work on commands, calming techniques, overcoming distractions, impulse control, and generally learning good dog citizenship.
Additionally, the dogs in our group classes have a fabulous time engaging in supervised play, and, weather permitting, swimming in our pond.
Prior to beginning group classes, we require an initial evaluation appointment with you and your dog.  This allows us to get to know both of you and to recommend the most suitable class level.
Group classes are offered in a series of four weekly one-hour lessons.  Each dog and their owner will move through the levels at their own pace, with no pressure to move on until they are ready.
Summer Class Schedule for Thursday & Saturday:
Must be pre-approved and have completed an initial evaluation in order to join any class.
Thursday Classes
Basic Class 10 AM
Advanced Class 12 PM
Puppy Class 5 PM
Saturday Classes
Basic Class 10 AM
Intermediate Class 11:30 AM
These classes are for the previous board and train dogs or dogs that have had the initial evaluation and been approved for class.  You must register for the class, these are not drop-in classes.  Please contact us to learn more.
Private and Semi-Private Lessons:
These classes are best for dogs who need more concentrated help with learning life skills, as well as dogs who have specific issues that need to be addressed.  Some of the problem behaviors that we often address in private or semi-private lessons include:
Resource guarding
Fear and shyness
Reactivity
Leash lunging
Biting and growling
Impulse control
Separation issues
Anxiety
Fence running
Doorbell and greeting behavior
We work with owners who need advice and techniques to help them train and manage dogs who may have more trouble learning to be good family members.
Often, after a few private or semi-private lessons, the dog and owner may be ready to move into a group lesson situation.  For other dogs, this more individual approach will always be the best option.
---
Puppy Class:
This class is for puppies that are between the ages of eight weeks and four months. It focuses primarily on handling, socialization, and basic commands. In addition, we teach methods for you and your pup to cope and manage the big world they are entering! Additional information can be found on our puppies page.
Even puppies can learn to be well-behaved!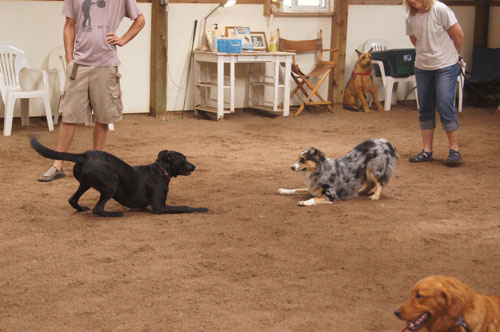 The photo to the right is of Sydney, the tricolor Australian Shepherd. When we first met Sydney, she was such a shy dog around other dogs that she was developing defensive aggression with them. Appropriate socialization was critical so we had her attend puppy classes so she would learn to socialize and play appropriately with other dogs. She ultimately moved up to the basic class and from there graduated from all levels of our obedience training.
---
These pictures demonstrate leash training exercises. Walking your dog correctly on-leash is fundamental to building a successful relationship with them.
---
Intermediate Class:
This class continues the techniques taught in our basic class and concentrates on practicing commands in a context in which new or unusual distractions are introduced.
---
Advanced Class:
Our advanced class continues the elements learned in the intermediate class but stresses off-leash training with even more environmental and canine distractions. A dog that successfully completes this class can be considered to have achieved a high degree of training and control. Owners should remember that these classes teach you the skills so you can always reinforce the desired behavior.
The photo to the right is of an advanced class working off-leash.  Each dog is being asked to hold a "down" command while their handler walks around them.
To the left is Sydney again, having a blast showing off her agility skills!
---
Private Lessons:
Many people find that individual work with a private trainer is a better fit for their goals or their schedules. We will accommodate owners in this regard, and there are always a variety of dogs on-site that can help with socialization or provide distractions for any level of obedience training.
Our initial evaluation will help us find the right class for your dog. Be sure to contact us today to set up your evaluation and get started on your dog's training today! At Dog Days Training Center in Berthoud, we can help to teach your dog how to be well behaved.